If you're using Vim Airline, there are many beautiful themes to pick from. But I personally like to remove the noise and use color sparingly.
This theme has status line background color and no bright highlights in normal mode. When color is used, it's minimal and only highlights some (arguably) important information.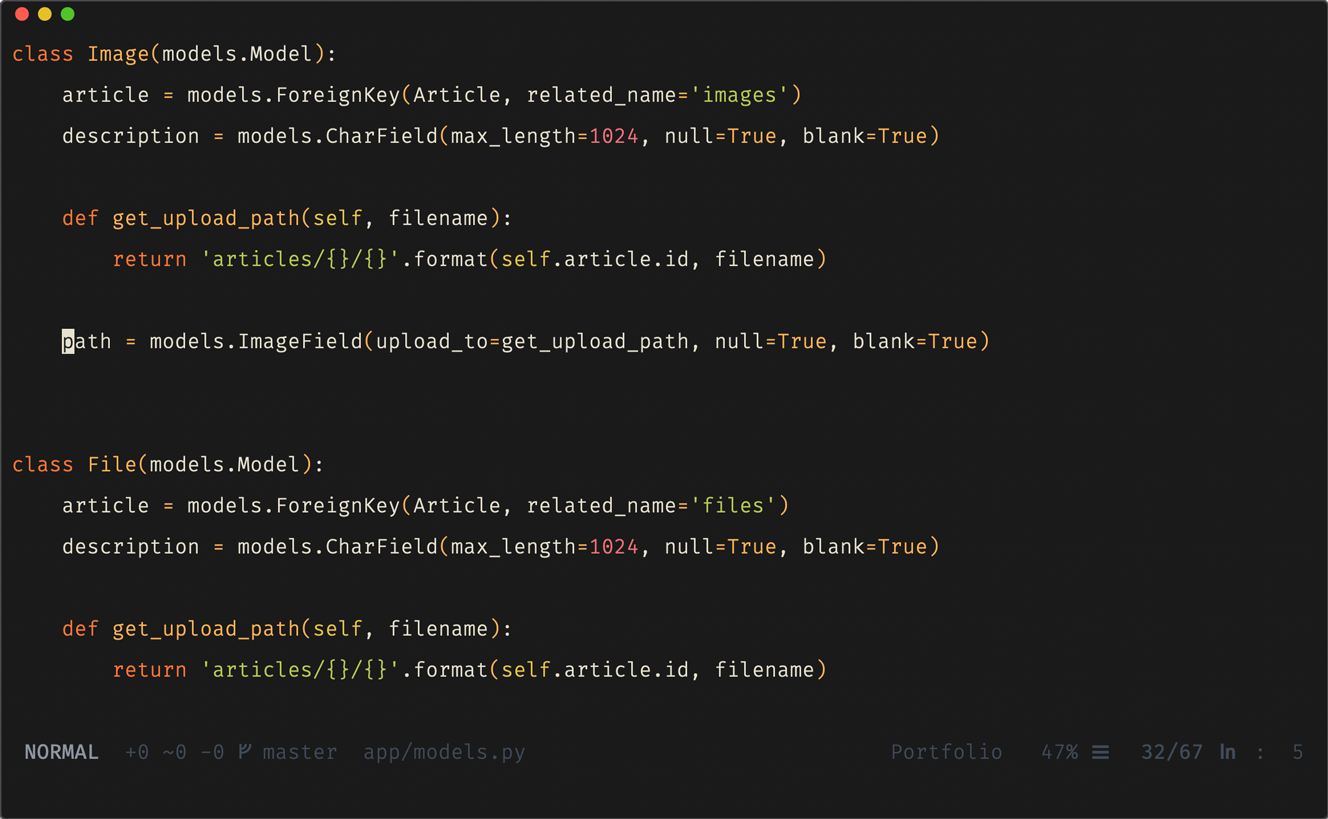 Normal mode has no highlighting, no background colors. The normal mode orange is used to indicate unsaved changes.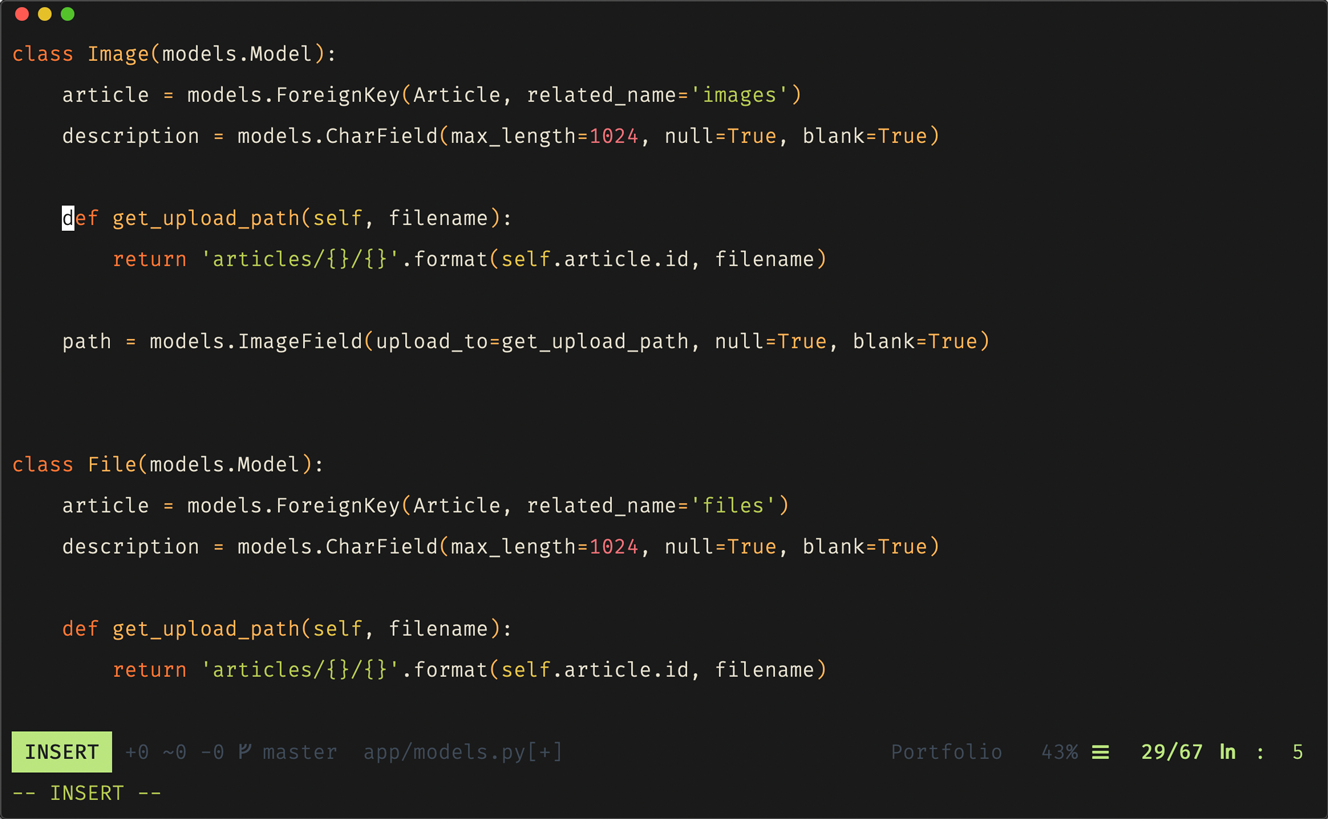 Insert mode = green for go!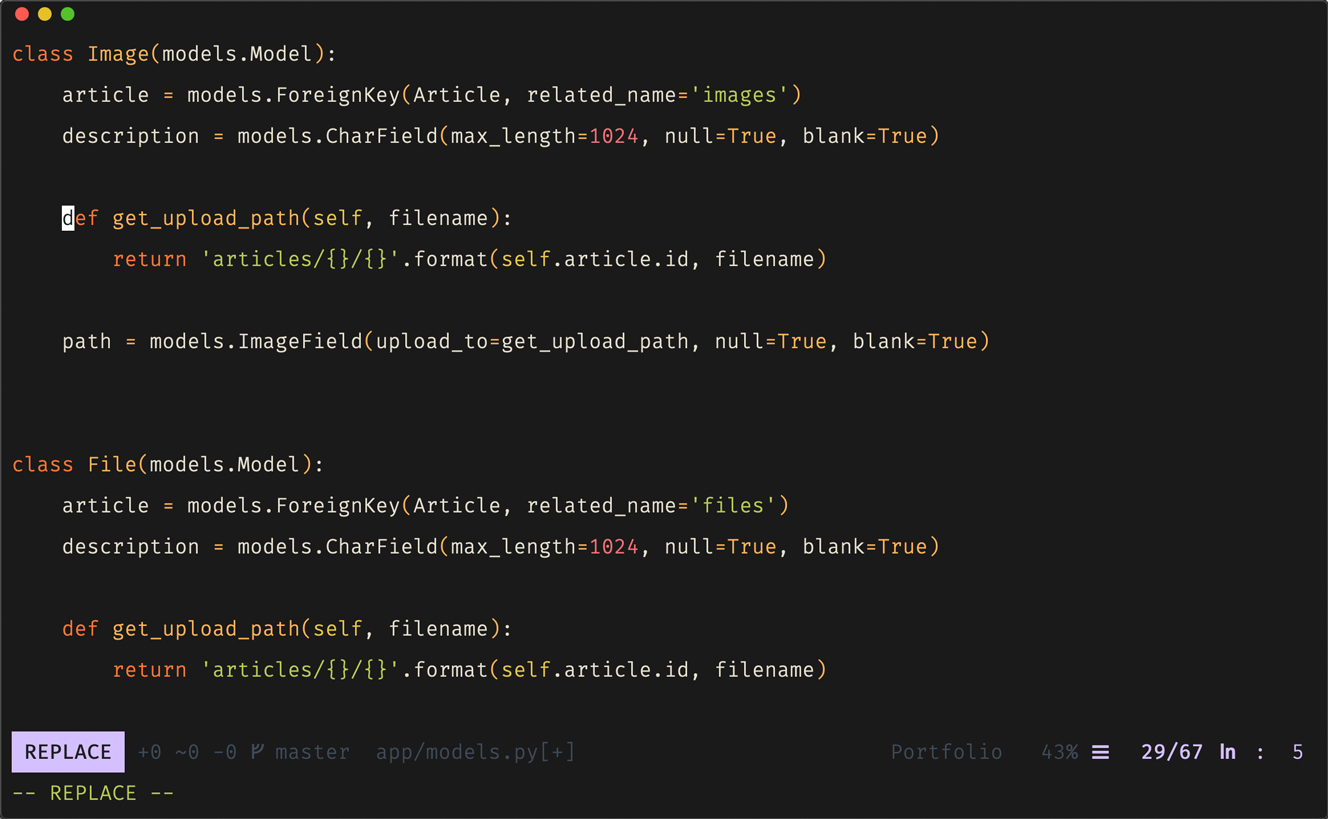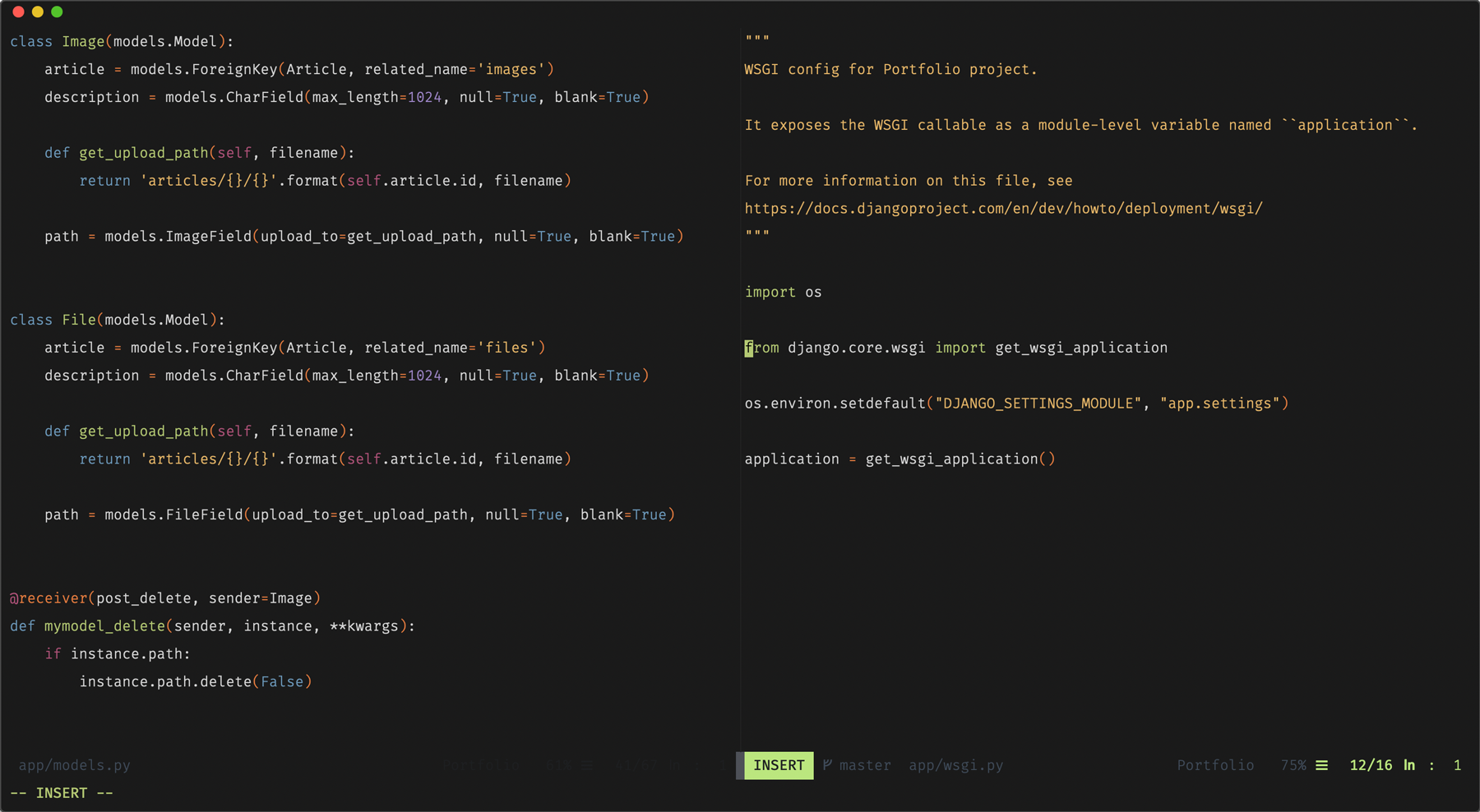 Removed much of the information from the inactive pane when using splits. This keeps the focus on the active pane without adding color.
This was created by starting with an existing theme in the vim-airline-themes repository. Below is the theme file, copy it into your vim-airline themes folder. Or checkout my fork.
# Colors
let s:gray     = [245, '#3f4b59']
let s:darkgray = [245, '#1d1f21']
let s:golden   = [143, '#BBE67E']
let s:pink     = [131, '#F07178']
let s:blue     = [ 67, '#D4BFFF']
let s:orange   = [166, '#ffae57']
let s:outerfg  = [ 16, '#8d96a1']
let s:outerfgi = [ 16, '#2f3d4d']

" Backgrounds
let s:outerbg  = [ 16, 'NONE']
let s:innerbg  = [234, 'NONE']

" Normal mode
let s:N1 = [s:outerfg[1], s:outerbg[1], s:outerfg[0], s:gray[0]]
let s:N3 = [s:gray[1]   , s:innerbg[1], s:gray[0]   , s:innerbg[0]]

" Normal mode - modified
let s:NM1 = [s:darkgray[1], s:orange[1], s:darkgray[0], s:orange[0]]
let s:NM3 = [s:orange[1]  , s:outerbg[1], s:orange[0], s:darkgray[0]]

" Insert mode
let s:I1 = [s:darkgray[1], s:golden[1], s:outerfg[0], s:golden[0]]
let s:I3 = [s:golden[1]  , s:innerbg[1], s:golden[0], s:innerbg[0]]

" Visual mode
let s:V1 = [s:darkgray[1], s:pink[1], s:outerfg[0], s:pink[0]]
let s:V3 = [s:pink[1]    , s:innerbg[1], s:pink[0], s:innerbg[0]]

" Replace mode
let s:R1 = [s:darkgray[1], s:blue[1], s:outerfg[0], s:blue[0]]
let s:R3 = [s:blue[1], s:innerbg[1], s:blue[0], s:innerbg[0]]

" Inactive pane
let s:IA = [s:darkgray[1], s:outerbg[1], s:innerbg[0], s:innerbg[0]]
let s:IAc = [s:gray[1], s:outerbg[1], s:outerbg[0], s:outerbg[0]]

let g:airline#themes#transparent#palette = {}
let g:airline#themes#transparent#palette.accents = {
    \ 'red': ['#d70000', '', 160, '', '']}

let g:airline#themes#transparent#palette.inactive = {
    \ 'airline_a': s:IA,
    \ 'airline_b': s:IA,
    \ 'airline_c': s:IAc,
    \ 'airline_x': s:IA,
    \ 'airline_y': s:IA,
    \ 'airline_z': s:IA}

let g:airline#themes#transparent#palette.inactive_modified = {
    \ 'airline_a': s:IA,
    \ 'airline_b': s:IA,
    \ 'airline_c': s:NM3,
    \ 'airline_x': s:IA,
    \ 'airline_y': s:IA,
    \ 'airline_z': s:IA}

let g:airline#themes#transparent#palette.normal = {
    \ 'airline_a': s:N1,
    \ 'airline_b': s:N3,
    \ 'airline_c': s:N3,
    \ 'airline_x': s:N3,
    \ 'airline_y': s:N3,
    \ 'airline_z': s:N3}

let g:airline#themes#transparent#palette.normal_modified = {
    \ 'airline_a': s:NM1,
    \ 'airline_b': s:N3,
    \ 'airline_c': s:N3,
    \ 'airline_x': s:N3,
    \ 'airline_y': s:N3,
    \ 'airline_z': s:NM3}

let g:airline#themes#transparent#palette.insert = {
    \ 'airline_a': s:I1,
    \ 'airline_b': s:N3,
    \ 'airline_c': s:N3,
    \ 'airline_x': s:N3,
    \ 'airline_y': s:N3,
    \ 'airline_z': s:I3}
let g:airline#themes#transparent#palette.insert_modified = {}

let g:airline#themes#transparent#palette.replace = {
    \ 'airline_a': s:R1,
    \ 'airline_b': s:N3,
    \ 'airline_c': s:N3,
    \ 'airline_x': s:N3,
    \ 'airline_y': s:N3,
    \ 'airline_z': s:R3}
let g:airline#themes#transparent#palette.replace_modified = {}

let g:airline#themes#transparent#palette.visual = {
    \ 'airline_a': s:V1,
    \ 'airline_b': s:N3,
    \ 'airline_c': s:N3,
    \ 'airline_x': s:N3,
    \ 'airline_y': s:N3,
    \ 'airline_z': s:V3}
let g:airline#themes#transparent#palette.visual_modified = {}

let g:airline#themes#transparent#palette.normal.airline_warning = s:NM1

let g:airline#themes#transparent#palette.normal_modified.airline_warning =
    \ g:airline#themes#transparent#palette.normal.airline_warning

let g:airline#themes#transparent#palette.insert.airline_warning =
    \ g:airline#themes#transparent#palette.normal.airline_warning

let g:airline#themes#transparent#palette.insert_modified.airline_warning =
    \ g:airline#themes#transparent#palette.normal.airline_warning

let g:airline#themes#transparent#palette.visual.airline_warning =
    \ g:airline#themes#transparent#palette.normal.airline_warning

let g:airline#themes#transparent#palette.visual_modified.airline_warning =
    \ g:airline#themes#transparent#palette.normal.airline_warning

let g:airline#themes#transparent#palette.replace.airline_warning =
    \ g:airline#themes#transparent#palette.normal.airline_warning

let g:airline#themes#transparent#palette.replace_modified.airline_warning =
    \ g:airline#themes#transparent#palette.normal.airline_warning